Who are we
De Paauw Recycling was founded in 1956 by Mr Bennie de Paauw. In the initial phase, the material to be recycled consisted mainly of waste paper and textiles that were manually sorted and stored.
Bennie's wife Epi was closely involved in this on a daily basis. With the purchase of a baler, the company was given the opportunity to offer the collected materials itself to paper mills and textile processors.


In the eighties, a cautious start was made with the collection of plastic waste. This proved successful, after which Roy de Paauw, son of Bennie and Epi de Paauw, took over the company in the early nineties and further developed this activity.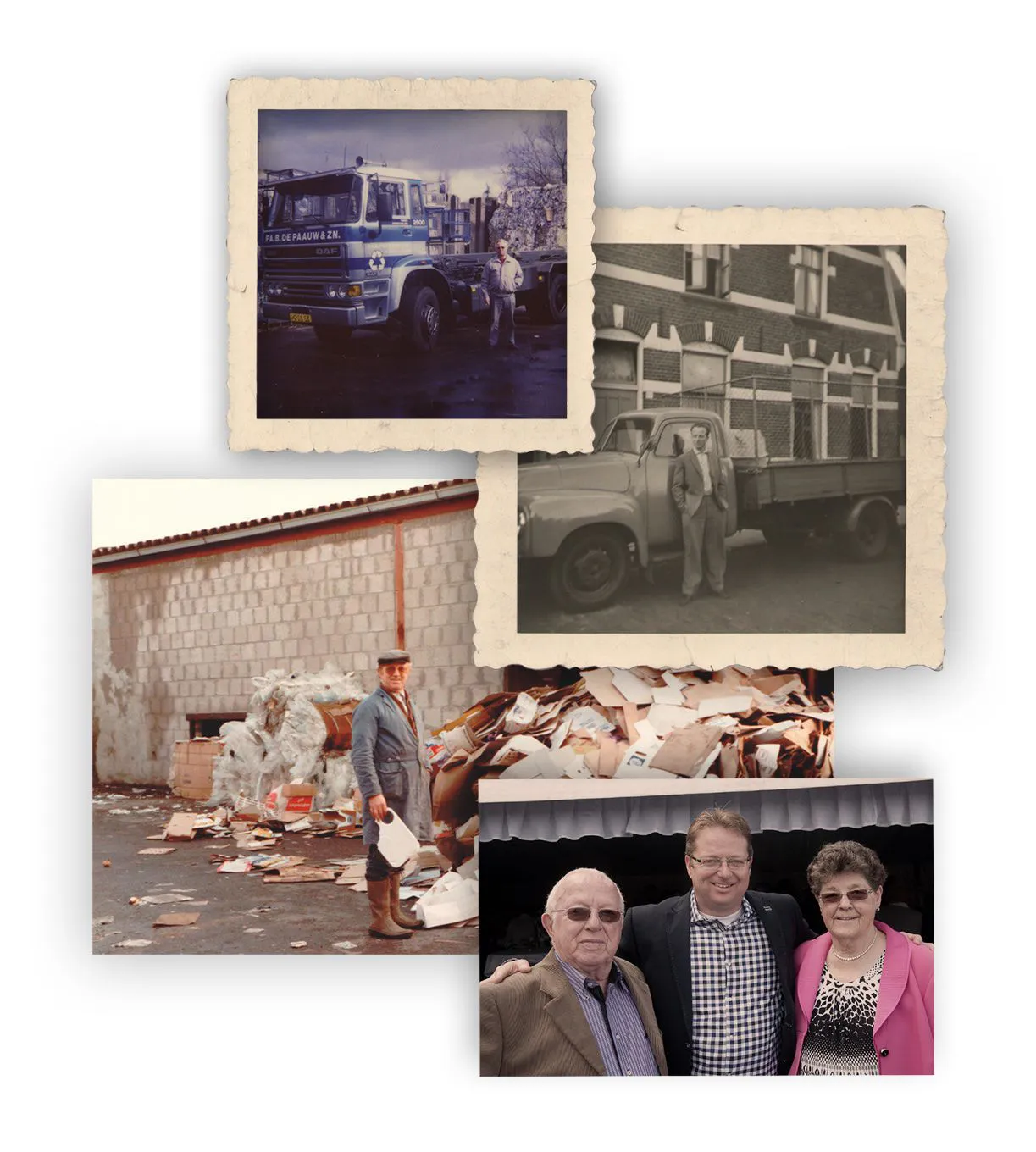 History

Collecting plastics waste
The growing use of plastic products and increasing environmental awareness led to a rapid growth of De Paauw Recycling. Processing and reuse of (raw) materials and products became increasingly important. De Paauw Recycling responded to this development by setting up the collection, storage, transhipment and sorting of plastic waste.

Always with respect for people and the environment. In addition to the wholesale business, De Paauw started its own recycling factory in 2006, where part of the collected plastic waste was processed into raw material for the plastics industry. A golden move. In 15 years, the company has grown into a globally respected plastics recycler.
Setting the example
From the very beginning of the export of plastic waste in 2000, De Paauw has maintained the highest quality standard. Twenty years ago, we had customers in Southeast Asia certified by the TüV.
Now, twenty years later, the EU and several Asian governments are coming up with regulations that are closely related to this.


In 2015, De Paauw was the first and only exporter of plastic waste to be certified by customs in the context of horizontal monitoring. The so-called AEO certificate. Our processes and procedures have been assessed and found to be of such good quality that customs leave some of its tasks to our internal control systems.
Something we are proud of.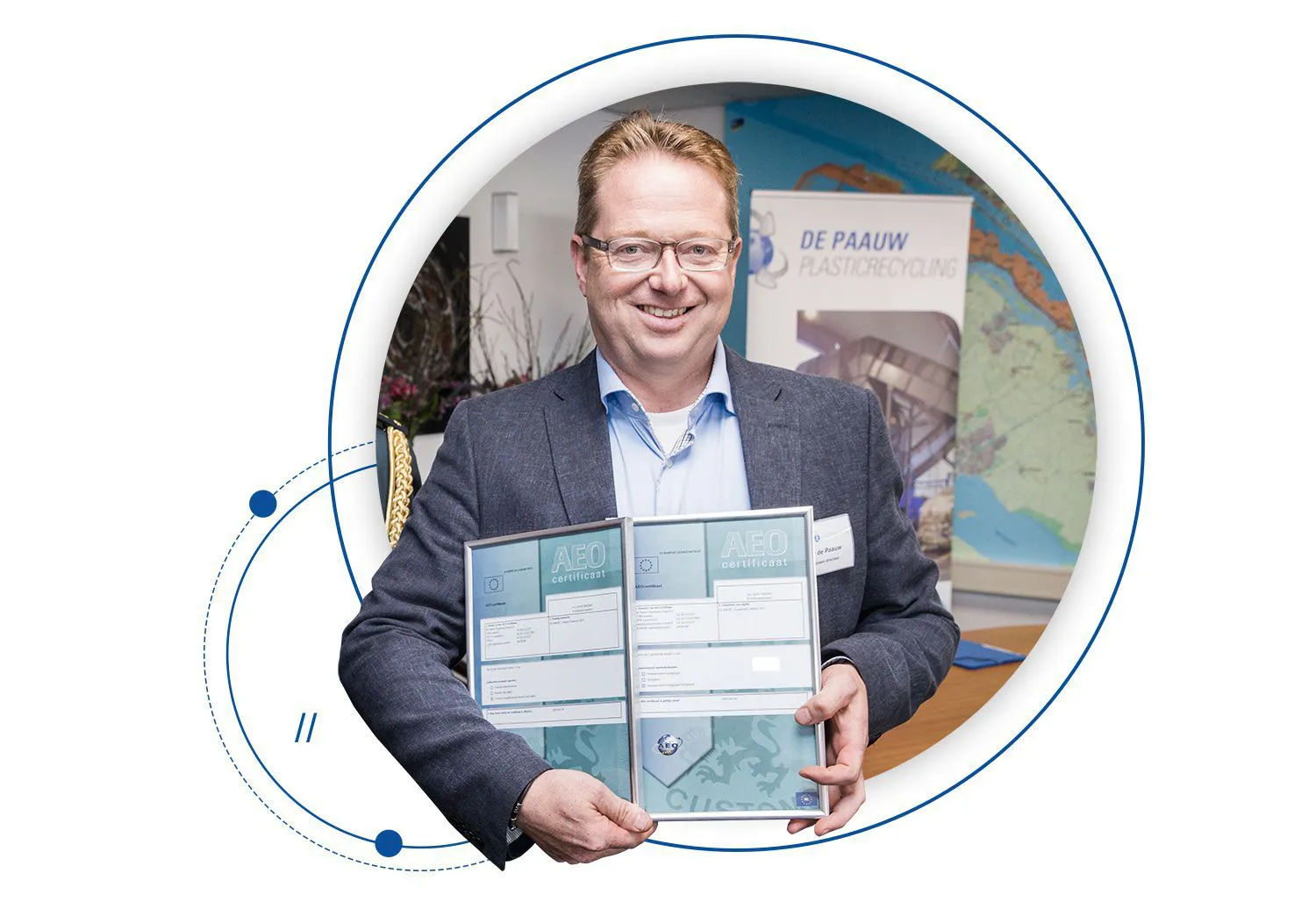 Present time

New use for used plastics
Plastic waste once started as a new product. They have proven their usefulness and are now no longer usable, worn out or simply no longer needed. That life story is over. Past tense. But the great thing about it is that we can ensure that a new life story can be started again. Recycling the plastic waste creates another valuable raw material for a new plastic product. That can again prove its usefulness, experience a new story. And when that story is over, we recycle it over and over again.

Then it's no longer a question of waste, but of sustainable raw material. We are De Paauw Sustainable Resources, a proud producer of this sustainable raw material, but more than that we are also a source of knowledge, product development and a partner in sustainable cooperation. All this is not born of idealism, we are a company that wants to make a profit. We are proud of the entrepreneurial spirit that was the foundation of our company. Just as we are proud of the development we have gone through, which shows that respectful, successful and sustainable go very well together.
Future
Who's to say. Ideas, innovations and developments keep coming. Wonderful inventions that change the world and our lives. "The sky is the limit" and even that can be questioned nowadays. This will also be the case with plastics, shapes, properties, design, applications, techniques and recycling.


It will continue to develop, but more and more in the right direction, the sustainable direction. There is no more time and plastic waste to waste. Wherever the developments go, it will be sustainable. Recycling will play a key role in this. And we continue to develop in that role.
'OCEANSCRAPERS'

3d printed from recyclate
VINCENT CALLEBAUT - ARCHITECT